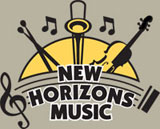 Welcome to the Rapid City, SD New Horizons Band Web Site. We hope you enjoy your visit with us. Our History page tells you about our organization, from its humble start in October 1997, until today. Read about our music director on the Director page. Our Joining page tells you all you need to know about joining our band. We use the Members Area page to share information about rehearsal times, upcoming performances and events, cancellations, special notices, etc. On the Meet the Band page, there is a roster of all of the members of the Rapid City New Horizons Band. Those members whose names are underlined have bios and/or photos as well. You can see pictures of us in action on our Photos page. We will list all future concerts and events, and places where the Band has played in the past, on the Performances page. If you have any comments or questions, please use our on-line form (get to it from our Contacts page) to send them to us. You can also learn where and when we rehearse on the Contacts page. Our Links page lists local, national and international organizations of interest.
The New Horizons Program was started in 1991 by Roy Ernst of the Eastman School of Music in Rochester, New York. It was originally envisioned that the bands (now also orchestras, choirs, and more) would be open to folks 50 years of age and beyond. Today, after 20 plus years, many groups open their membership to those over 50, those getting close to 50, those who will someday be 50, etc. The age rule (if there is one) is made at the local level, and there is no hard set rule. The Rapid City New Horizons Band welcomes any adult who wants to play in our band.
Rapid City is located in the southwestern part of South Dakota, nestled up next to the famous Black Hills. We are the largest city nearest Mount Rushmore, which is only a short drive away. If you are a motorcycling enthusiast, the world famous Sturgis Motorcycle Rally held in August of each year, is just up the road. If you are traveling through, be sure to contact us about sitting in on a rehearsal. We would love to have you!