Milo Winter
Director
Rapid City New Horizons Band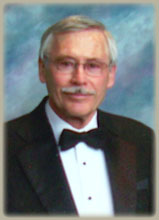 Milo Winter is retired Director of Bands at Stevens High School in Rapid City, South Dakota. He holds degrees from Augustana College in Sioux Falls and the University of South Dakota. In addition to teaching in Beresford and Rapid City, he served in the U.S. Army Bands in Colorado and Germany.
Winter was elected to the American Bandmasters Association in 1980 and is a past-president of the S.D. Bandmasters Association. He received the Phi Beta Mu Outstanding Bandmaster Award, the State MAC Award, the SDHSAA Distinguished Service Award, and the S.D. School of Mines Service to Education Award. In 1990 he was the recipient of the Outstanding Music Educator Award from the National Federation of Interscholastic Music Association and was twice selected for the Presidential Scholars Program Award. Augustana College honored Winter with the Outstanding Alumni Award, and in 1994 he received the Bandworld Legion of Honor Award. He was inducted into the S.D. Bandmasters Hall of Fame in 1997. Winter was recognized at the South Dakota Governor's Awards in the Arts for Outstanding Service in Arts Education in 2015.
Bands under his direction earned honors in the midwest and Canada and in concert, jazz, and marching events at the National Cherry Blossom Festival in Washington, D.C. European concert tours included performances behind the "Iron Curtain" in Czechoslovakia in the 1970's. In 1986 the Stevens High School Bands were awarded the prestigious Sudler Flag of Honor for standards of excellence in concert activities. The Stevens Band performed in the Tournament of Roses Parade in 1987 and toured Australia, New Zealand, and Hawaii in 1993.
Winter is active as a guest conductor, clinician, and adjudicator at festivals and contests, is the founder and director of the Rapid City New Horizons Band, and is a co-director of the Rapid City Municipal Band.