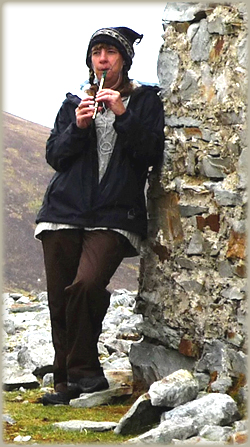 Holly (Hieb) Lemay was born and raised in Rapid City, attended both Central and Stevens High Schools, and graduated from SDSU in 1978 with a degree in Recreation (no kidding). Over the years she has worked for the Rapid City Recreation Department, YMCA, Girls Club, Westside Preschool, taught PE at Rapid City HS, Memorial Christian, and Calvary Baptist schools, and substituted in the Rapid City area schools and in Tucson, Arizona where she also developed an elementary music curriculum. She also served on the Rapid City Board of Education from 2002-2005.
Holly played tenor saxophone in Milo Winter's band at Stevens High School from 1972 to 1974. She started playing the flute in the Rapid City New Horizons Band in 2005. Other instruments that Holly plays are the Irish whistle, the Irish flute, recorder and guitar. She performs locally in the Recorder Quartet "Going for Baroque" and the Celtic Band "String Thaw". She has recorded and produced 6 CD's with "String Thaw". She performed on Irish whistle with Hank Harris on "Deadwood Songbook II" and Kenny Putnam with the Black Hills Symphony Orchestra.
When not playing music, Holly has numerous other creative outlets including a line of original clothing and jewelry that she sells locally and in Boulder, Colorado. She also raises birds and loves horseback riding, swimming, and most of all sailing. She received her Small Keelboat certification from the American Sailing Association last summer and spends as much time as she can on the water at Angustora Reservoir. She also loves to travel and has visited Australia, New Zealand, Bulgaria, Germany, France, Switzerland, Italy, and Ireland (where adjacent picture was taken on Crough Patrick). She also lived in England from 1984-88 when her husband Michael was stationed there in the Air Force.
Holly has one son, Benjamin, who is an accomplished violinist, has performed professionally since the age of 12, and has won numerous Old Time Fiddling titles including Regional Champion for the National Old Time Fiddling Competition.